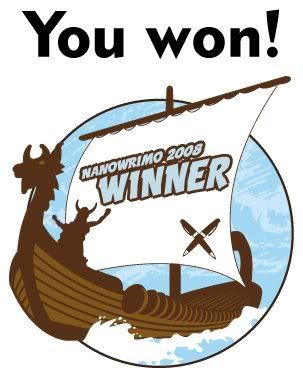 I have surpassed the official 50,000 word challenge.  And I did stop to celebrate.  Boy did I!  I don't think I've been able to wipe the smile off of my face yet. 
This has definitely been (and continues to be) a November to remember.  Not only have I written most of a novel, but I am truly part of a group of people that have all done, or are stilling working on doing, the same thing.  I know I keep saying this, but this month has really brought home to me the power of community.  Without the people in my writing group, I would not have been able to do this.  And without the encouragement of all of the other people in my life (even the ones who looked at me like I had two heads when I told them I was planning on writing a novel in one month), it would have been much, much harder.  So thank you to everyone!  Writing may be a solitary endeavor, but that doesn't mean that writers need to be solitary people.
Here's the great part, for us introverts.  My writing group is made up of people from all over the world.  We meet on line.  So, in order to interact with them, all I need to do is sit in my room and type.  But oh, what that typing brings.  It's hard to describe the level of caring and support and learning from each other and growing that can take place when people sit in their rooms and type things for other people to read.  Messages of hope and frustration and commiseration and celebration.  Sometimes all it takes is for someone else to say "you're not alone.  I'm stuck at the moment, too," for the sun to come out again.  Connections, people.  It's all about connections.
Hooray for the internet, and all that it brings!
Okay, sappy interlude over.  I now return you to your regularly scheduled blogging.